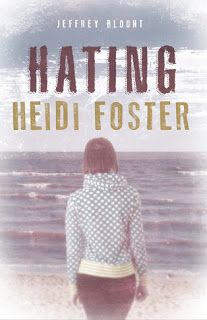 Published by Alluvion Press
Mae Mcbride has so much on her mind lately. The recent death of her father has left her reeling and though she'd usually turn to her friends at school, especially her long-time friend Heidi, this time it just isn't an option. When Mae found out that her father died while rescuing her best friend, it tore her world apart and it really doesn't help when friends are consoling Heidi. Can't they see that this is all her fault?
Heidi, racked with guilt, is struggling with depression, and unable to face even the simplest acts such as eating. Wasting away from the loss of not just Mae's father but also the loss of the friendship with Mae, it's hard to imagine life can ever bear some semblance of normality again. During such an emotional time, is it possible that the bonds of friendship can ever heal?
I didn't know what to expect from this book. The blurb on the back had of course warned me that it would be an emotional read but at just 105 pages I didn't hold out hope for much depth in the storyline. Wow was I wrong! It's not often that a book packs a punch within the first few pages and yet in this book, Jeffrey Blount does exactly that. From the second chapter, I was deeply invested in this book and found myself unwilling to put it down for any length of time.
It's not so much a heartwarming read as a heart wrenching one but I chalk that up to my losing my mother when I was just 15. I could relate to Mae and Heidi both, on so many levels. I found the family to be a little too picture perfect in the way they all try to come together and somehow all know the perfect way to heal, but again, that is probably because of the contrast with my own family who - myself included - are greatly dysfunctional.
I'm hesitant to use the word
enjoyed
with regard to my reading experience with this novel as the subject matter was incredibly serious, but I have to admit it was definitely a rewarding experience and I'd definitely read more by this author. It's great to see a book out there that can be picked up by young adults and adults alike, and that will share the messages that death and grief are painful moments that show us at our worst, but that even when the heart and soul are deeply wounded there is always a path that brings salvation and redemption, and even - in some lucky cases - some restoration of faith in mankind.
I'd love to see this book in school libraries but definitely recommend it for your young adults.
You can learn more about the author, Jeffrey Blount, at his website:
http://jeffreyblount.com/