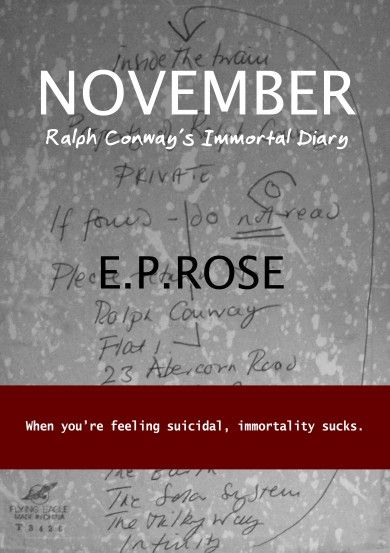 Our daily adventure continues right here with The Fifth instalment of November: Ralph Conway's Immortal Diary. If this is your first day with us, I'd recommend you click
here
for links to the preface and previous instalments. I'm enjoying this serialization!
The content appears here on The Literary Word courtesy of Table 13 Ltd
THE FIFTH
Fireworks night. Big deal.
Horrible weather - grey, damp and soupy.
I drove up to Waitrose in Finchley Road, parked in the car park, bounced up the stairs and commandeered a trolley.
I wondered whether I should include Joan in my calculations. Of course I should, and I did. In the end, I opted for potted shrimps, because Joan can't resist them, the ingredients for my famous stew and fresh fruit. I chose one beautiful bunch of grapes, then had to put them back when I realised they were South African. So I chose another bunch, which were not South African, but which were Colombian. I don't actually have the foggiest idea what the political situation is in Colombia - but all those South American countries are highly suspect, so I also put back this second bunch of grapes. Then the oranges were Israeli, and I remembered that Joan was boycotting Israeli produce for some reason or other – mainly, I think, to annoy Eric. Bananas? We could have banana custard! I love banana custard. But could I then be accused of supporting banana republics? I began to have a nervous breakdown. Fucking fruit. It's a minefield. Then I looked into my basket and wondered if my potatoes were in any way connected with the IRA, and should I put them back? But you can't have stew without mashed potatoes, so I thought, sod it, and went to buy a cake. And a candle.
When I staggered in with the provisions, Joan was snoozing in the wicker lounger with the latest Jane Grigson open on her lap. I thought it was an encouraging sign that she should be reading a cookery book, but looking around I saw no hint of any food having been consumed.
I placed my provisions quietly on the kitchen table and started to prepare my famous stew, while Joan dozed.
I hid the cake and the candle on top of the fridge. Being fairly short, Joan would have to climb onto a chair to find it.
It's really very simple, but it's astonishing how many people are incapable of making a decent stew.
I chopped up the onions, nice and small, and bunged them in the oil and butter which was sizzling away in the bottom of the casserole. Right. Now I put some flour in a bowl. Seasoned it. Chop chuck steak into chunks, dunk chunks in seasoned flour, give them a good old fry up in the frying pan and transfer the sealed meat into the casserole, on top of the onions, which were clarifying nicely. I looked across at Joan, and it seemed to me that her nostrils were twitching.
I opened a can of tomatoes and drained off the liquid. Very important this. Drain off your liquid. Salt and pepper. Then the wine. Oh shit. I should have bought a bottle of something suitable, when I was in the supermarket, but I wasn't about to go back or out. I needed wine then and there, so hey-ho, needs must and all that.
I went to my cellar. Well, it's a cupboard, inbetween the bedroom and the loo. It's also my bank.
The cupboard is almost bare. I've been selling off the contents in dribs and drabs over the past few years, mainly to Eric. And when what's left is gone, that will be that. The flush will be truly busted.
There's a magnum of 1978 La Tâche from Domaine de la Romanée Conti, a couple of bottles of 1979 Louis Roederer Cristal, one bottle of 1971 Yquem, one case of 1975 Bâtard Montrachet from Etienne Sauzet, a half dozen bottles of 1978 Hermitage la Chapelle from Paul Jaboulet Aîné and a case of 1961 Petrus.
I picked out a bottle of the Hermitage, took it back to the kitchen, found a corkscrew at the back of the cutlery drawer, removed the capsule, inserted the screw, twisted and pulled. Out came the cork with a gentle pop.
Joan opened her eyes.
"I hope you're not planning to drink that, Ralph," she said.
"Of course not," I replied, "it won't be ready to drink for at least another twenty years." By which time, who knows, I might be cured.
And then, God help me, I poured the bottle's beautiful contents onto the meat, put the lid on the casserole and the casserole into the oven.
"Is that safe?"
"By the time this is done," I assured her, "there won't be a trace of alcohol remaining."
"Good boy," said Joan – and yawned – and went back to sleep.
So now, I'm sitting here, writing in my Flying Eagle, with my stew simmering away in the oven there - and Joan's snuggled up, tucked into her hunger strike.
I have to say this. She looks absolutely adorable. And I might marry her at that. But I certainly will NOT marry her if she remains on hunger strike. And that's final.
Check back tomorrow for The Sixth...