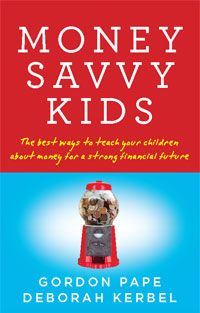 Published by Portfolio
an imprint of
Penguin Group Canada
How much did you learn about finance while growing up? It's hardly surprising that this is the most indebted generation in Canadian History and that the pattern is set to continue as it has over many generations before us. What to do? A great starting point is to read Money Savvy Kids which was written by Gordon Pape and his daughter Deborah Kerbel. Inside the approximately 220 pages of this book you will find a wealth of information that is shared in a way that makes it easy to comprehend whether you are a financial wiz or absolutely clueless, but do keep in mind that Money Savvy Kids: The Best Ways to Teach Your Children about Money for a Strong Financial Future (as the full title states), is primarily geared towards suggesting methods to engage your children in this subject, and at which ages the various techniques should be applied.
The back states: Money Savvy Kids features timely information on:
how to teach the "value" of money
whether allowances are a good idea and, if so, how much?
saving, spending, and sharing
teaching your kids to shop smart
coping with children-directed advertising
games that teach money skills
great websites and apps - some reviewed by the kids themselves
money-smart books for young readers
finding that first job
saving for college
As a woman in my late thirties, with children who are all adults now, I wouldn't fit into the targeted audience for this title. The blurb states that this is a must-read for all parents with children between the ages of five and seventeen and while I do agree that it will be most useful to that portion of society, I have to say that I highly recommend it regardless of age.
Early in the book we are treated to one of the many little personal experiences that are sprinkled through the pages of this highly informative and entertaining book. In one particular tale, Deborah ventures into a store with her daughter and warns the child ahead of time that this shopping trip will be for one purpose only, a gift for a family member. What happens in that store next was somewhat shocking and prompted a discussion with my hubby on the questionable actions that took place. Further stories in the book made it clear that while this is geared towards money management, it also guides us into how to use those lessons and skills to encourage selflessness, compassion, and a strong set of morals, values, and ethics. That is what really gave this a 5/5 score for me and caused me to look at this book as a must-read for everyone.
The layout of the book is wonderfully practical in that many of the chapters are geared towards a set age range and include info and activities for that age. So many of the ideas are ones that wouldn't have occurred to me and they are brilliant. What I love about the suggestions and hints, is that the authors share not just the ideas that worked well for them, but other ideas that totally flopped. Many of those shared experiences result in outbreaks of laughter. I loved too that the authors share their own views on how to deal with allowances, setting a level of tasks that is appropriate for each age, and additionally why connecting allowances and tasks/chores is problematic.
Like when I read The Stop, this book ended up with a myriad of post-it tabs throughout. Some for the parental pearls of wisdom, some for resources that can be found online (and look fantastic, I might add!), and an impossible number of them for further reading material. I need more hours in my day. I will also add that I now have a better understanding of hyperinflation and that if you're like me, you'll be using Google to learn more about that too by the end of the book.
If all books on finance were this much fun, I'd read so many more of them.
Author website for Gordon Pape:
http://www.buildingwealth.ca
Author website for Deborah Kerbel:
http://www.deborahkerbel.com