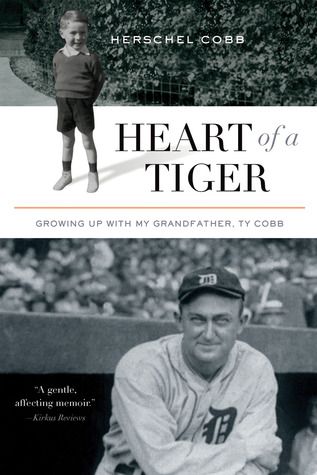 Published by
ECW Press
Herschel Cobb grew up in a household rife with violence and chaos. His father, also named Herschel, was a cruel and sadistic man who seemed to truly enjoy breaking the spirit of young Herschel and his two siblings Susan and Kit. Life with one abusive parent is hard enough but when it came to family, the Cobb children really drew the short straw. It's tough to read about a father who doesn't hesitate to use his child as a moving target for him to test his BB gun upon, but it's nothing less than heartbreaking when you read that his mother stood by and watched, proving without doubt that she was far from being the maternal type. Instead we see an alcoholic with adulterous tendencies that frequently enraged Herschel senior and led to the children being placed once more in a brutally harmful situation. At times she even states without hesitation that she doesn't love her children, and never wanted them in the first place. The only light in this truly dark and devastating life is Ty Cobb, their grandfather, though he is dealing with his own demons and a troubled past that threatens to resurface.
I'm going to start by saying that this is not a memoir that will only appeal to fans of sports, and in particular Major League Baseball. In fact, when it comes to baseball I am absolutely clueless. It was only after reading this book that I did a Google search for Ty Cobb and found out that he was known as the Georgia Peach and was widely credited with setting 90 Major League Baseball records in his career, and keeping many of the records for half a century. Some are still held by him even now in 2013. Did I know any of this before? No, and I still didn't know much about his baseball career when I got to the end of this memoir. While baseball facts are sprinkled throughout the book (especially towards the end) the focus of this book remains on a more personal level, as provided by his family. I haven't read other books on Ty Cobb but definitely want to after reading this.
The first half of the book deals primarily with the life that Herschel Jr (the author) experiences as a child, and it is tough to read in places. Personally I struggled more with the behaviours of their mother as it became obvious that she was truly indifferent when it came to the welfare of her children. When Herschel Sr passes away, Herschel Jr is just eight years old and I hoped with all my heart as I was reading that this boy would finally have some peace and a more positive life. In a sense he did but it's not from his mother. Rather it's in the form of summers spent with their paternal grandmother, and grandfather.
Thus begins the rest of the book in which the focus is more on the relationship between the three siblings and the Grandfather, including time spent in Lake Tahoe at the family cabin. It's here that we are permitted glimpses into a side of Ty Cobb that few were privy to and these glimpses led me to develop a deep respect for this man and his determination to offer his grandchildren the stability, love, and guidance that had been missing from their lives. One can't help but feel an almost palpable sense of peace as the family moves from a fractured state to forming close bonds. I also have to add here that as Ty Cobb leads by example and shows his grandchildren the importance of community, responsibility, and charity it was incredibly inspirational and I know the messages will stick with me always.
I could rave about this book for hours and I feel I would still never do it justice. It's a book that hooks the reader from the very beginning and in spite of the sometimes difficult content, keeps you hanging on until the very end. In fact, I loved it so much that it was my top choice to talk about on the Brody & Samantha show over at
QX104fm
. Missed it? That's okay, you can still hear it by clicking on their image and downloading the April 11th podcast.
It's books like this one that really make the following quote ring true.
PS. If you'd like to check out an excerpt you can do so at
http://www.ecwpress.com/tiger
. Also, the book states that if you buy the hard copy, you get the eBook free by e-mailing ECW Press with a few details! Perfect for the booklover who enjoys reading a physical copy but would also like the portability of going digital.