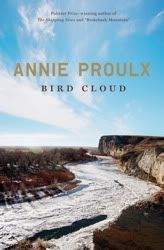 Published by Scribner
an imprint of
Simon & Schuster
and
Simon & Schuster Canada
Annie Proulx purchased 640 acres of Wyoming wetlands, prairie, and four-hundred foot cliffs dropping down to the North Platte River. This site that she later named 'Bird Cloud' was to become the place where she would build the home of her dreams. Bird Cloud - the book - follows the construction from the design, through to completion while simultaneously allowing the reader to learn about the local nature and the history of the region. Only through the unique writing style of Annie Proulx could such subjects really come to life and spring off the page.
I hadn't known what to expect from this book. I am a fan of Annie Proulx (Brokeback Mountain, The Shipping News) so I was eager to delve between the pages. I had also known that this is her first non-fiction book in over twenty years so it would vary from anything else of hers I had read. It didn't take me long to realize that I was enthralled with this book and the author's experiences.
It's impossible to define this book, but I will try my best. It's a wonderful mix of architectural design, construction, nature, conservation, and history, all woven together with the magical writing style that Proulx is known for. It's too easy to venture between the pages and lose yourself in the vivid and gorgeous descriptions. The author captures all aspects of nature, including the most brutal, and I couldn't help but feel envious of this woman, so close to nature and able to observe it at leisure. I have to admit, I wasn't so envious when it came to the construction of the house though, and when we retire, my husband and I shall definitely be purchasing a house that is built already.
Most fascinating for me, was the history of the region. Reading Bird Cloud brings the past to life and left me with a longing to know more. You know a book is a great read when you find yourself slowing down, not wanting the book to end. That's exactly how it was with this read, for me. I could have read hundreds more pages without feeling satisfied.
I think, personally, this is one of those books that the reader will either love, or hate. Me? I adored it. I found it to be such an intimate insight into the author's life as well as her dreams, and inspirations. I loved this book a great deal, especially getting to know the other people who joined Annie Proulx on this journey, and the descriptions of the archaeological digs that took place on the land.
Try it. You just might like it!