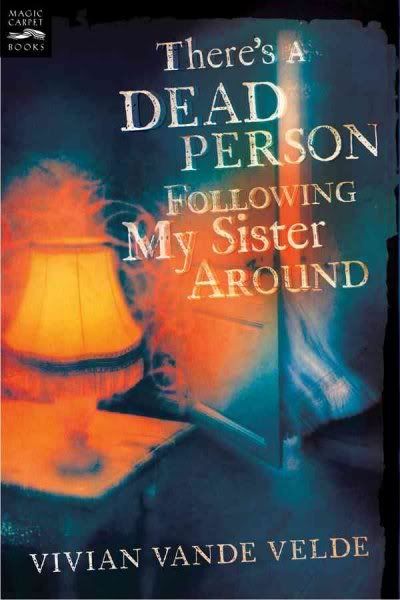 Published by Magic Carpet Books -
an imprint of
Harcourt Inc.
Distributed by
Raincoast Books
Ted has a problem. It all started one night while Ted and his sixteen year old brother were watching TV. Looking up he spies his younger sister Vicky - who is in kindergarten - trying to watch TV even though she shouldn't be awake. Vicky explains that she is only there because her new friend Marella was curious about TV. Chalking the experience up to invisible friends, Vicky is sent back to bed by her brothers. Following that there seems to be more than a few strange events including one terrifying night when Ted wakes up from a really bad nightmare only to hear his sister screaming that 'the bad lady' was trying to hurt him.
Through a conversation with his cousin, and later with his grandparents, Ted is convinced the house is haunted and he learns that their almost 150 year old home used to be a part of the underground railroad. Furthermore, his grandparents tell him of a secret room in the house that is now unreachable but which once held a diary. He is thrilled to learn the diary is in the attic but soon learns that someone really doesn't want him to go up there.
Will he get the answers he needs, and will it be in time to put an end to the hauntings before something really bad happens?
I decided on a quick read tonight and this title just caught my eye. From the beginning this book grabs your attention and has no problem holding onto it. The reader is informed that unlike most ghost stories, this one doesn't begin with an old old house, or being sent to stay with an aunt who lives near a windswept moor. Nor does it involve a lighthouse or any of the other things usually found in those kind of stories. Within the first couple of pages I was already chuckling at the humour and I was already drawn in to the point where I didn't want to put the book down at all.
I liked that this book delves into some of the history of slavery and the underground railway. It was fascinating to read about and I especially liked the reactions from Ted as he learned of his family's involvement. The tale has a wonderfully balanced mix of fantasy and educational content that is sure to please both parents and children alike. It's an entertaining read with many fantastic twists and turns that keep the reader on the edge of their seat right until the very end. For ages 10 and up.
Author's site:
http://www.vivianvandevelde.com