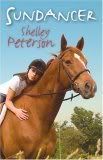 Published by
Key Porter Books
Shelley Peterson brings us another brilliant Young Adult book, Sundancer. Sundancer is a beautiful chestnut horse, who thanks to the quick-thinking actions of a local vet, is saved from being euthanized and is sent instead to Saddle Creek Farm. The farm is the home to thirteen-year-old Alberta (Bird for short) and her Aunt Hannah.
Hannah is at her wits end when it comes to Sundancer. He seems troubled, unreachable and dangerous. She makes it known that he is not to be ridden, especially after Bird's attempt which led to nothing but a concussion. Bird isn't going to be put off that easily though and besides, she has a gift for dealing with animals. People around her find her strange since she doesn't talk. Well, not to people at least. She can hear the thoughts of animals and send thoughts back to them and within the pages of this novel, we are treated to a glimpse of many beautiful relationships between Bird and the animals in her life.
In the middle of dealing with Sundancer, just when things can't seem to get any crazier, Bird's mother decides to pay a visit. Bird has many mixed emotions and understandably so, as she is still feeling the sting of being left with her aunt almost two years ago. She doesn't want to meet her mother's new boyfriend who is coming along for the ride, but she is excited that she will see her sister Julia again!
When they finally arrive, Bird can hardly believe it. Her mother steps out of the car all dressed in pink (including pink ankle socks!) and her sister is dressed to look like a miniature carbon copy. What follows is a wonderful mix of laughter, tears (I cried like a baby), excitement, adventure, disappointment and more, as the author delivers a story that is unforgettable. Will Bird ever feel able to speak again? Will Sundancer ever settle down and trust anyone? Will Bird's mother ever stop dressing like Barbie? It's a book that regardless of age, the reader is going to fall in love with.