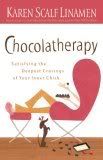 Published by
Revell Books
- A division of
Baker Publishing Group
Chocolatherapy is a book which any woman can relate to. It deals with the subject of cravings and emotional eating, in a fun, down-to-earth and very personal way. The author Karen Scalf Linamen guides us through the times in her life when she dealt with these cravings and shows us that with determination, understanding and a little searching inside of ourselves, we too can overcome these needs - or more accurately, habits.
Through the use of a dozen chapters - Hungry for a Change, Visibility, Escape, Love, Perspective, Community, Context, Viscosity, Sleep, Clarity, Control, and Transformation - the author provides useful information, shared in a way that is very easy to understand. Also a mix of personal anecdotes with a healthy dose of humour, all of which, truly touch the heart. Sprinkled throughout the book are also little treats from
The Chocolaphile Files
which are inspirational thoughts and wisdoms from other women also dealing with these issues.
I love that this book doesn't pull any punches. It really brings home the concept of looking for something more filling, more satisfying than a quick fix from the refrigerator. It inspires the reader to ask themselves some difficult questions and look to other sources for a solution. The main theme of the book is geared towards finding the answer on a spiritual level - in this case, Christianity. It's a great read and though I imagine some people could be turned off because of the religious tone in the book, I would suggest they read it. The author manages wonderfully to share her message and lessons with the reader, in a way that is far from overbearing and there is a wealth of information within the pages that would add to any life, regardless of spitirual choices.
This was a thought provoking and fun book which I know I will refer to often.