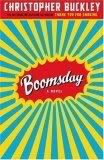 Published by
Twelve
An Imprint of
Hachette Book Group USA
In Boomsday, Christopher Buckley brings us the character of Cassandra Devine, a 29 year old blogger who causes chaos and mayhem when she posts on her blog, that she believes Baby Boomers should be given government incentives to commit suicide at the age of 70.
We first meet Cassandra as a promising student who leaves no doubt that she can achieve anything she wants in life, including getting into Yale. She is forced to leave that dream when her dad confesses he used her university funds to start his new business which isn't going that great just yet and so, as an alternative, she joins the US Military.
While on duty in Bosnia, she is asked to escort a congressman from his plane to his destination. Simple right? Not when that congressman is Randy Jepperson, who, through a multitude of choices, winds up driving the two of them into a minefield, resulting in the congressman losing a leg and the world thinking they were both having sex.. Can things get any worse?
Now Cass works for a PR company during the day and writes her blog at night. The Baby Boomer post which she writes, has the whole world buzzing, including a senator who wants to take the issue all the way to the White House. It also captures the attention of Gideon Payne, also known as Mr Pro-Life, who Cass describes as a preacher on steroids.
What follows is a truly wild and out of control ride, with truly hilarious moments and yet the author somehow also manages to add more than a few heartwarming moments.
This is one of those books that just when you think it cannot possibly get any funnier, it does! There are so many fun twists and suprises. The characters are brilliantly written, the story is just fantastic and I honestly can't find enough good things to say about this book. It's a must read. It's my first experience with a Christopher Buckley novel but it certainly won't be my last.