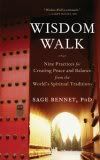 Published by New World Library
In Wisdom Walk, Sage Bennet takes us on a journey of discovery, not only of multiple spiritual traditions but also of ourselves. Nine chapters cover Hinduism, Buddhism, Islam, Christianity, Judaism, Native American Spirituality, Taoism, New Thought and, last but not least a chapter for all traditions.
In this book, the reader can't help but notice the similarities between the traditions. In each chapter we are introduced to practices from that tradition and the benefits they can bring to our lives. Along with the information, personal stories from the author and people in her life bring the book to life and make it so much more inspirational. There are also exercises to follow which I found very interesting and can't wait to try.
I had an idea I was going to like this book but I wasn't aware of just how much. The information is great, the exercises are enlightening and practical. I hadn't realised just how much my own life was hectic, out of control and unbalanced until reading this and noticing how much sounded familiar. I loved that the author doesn't provide a quick fix or hand us easy answers but rather, encourages us to find our way and take our own Wisdom Walk.
There is so much to love about this book. The way it lets us know that it is fine to pause, slow down and take care of ourselves. The way it encourages us to help others in our lives. The way it encourages us to be open minded and respectful of those around us. The way the author doesn't tell us what to think but gives us countless tools so we can explore our own minds and hearts and seek our own answers. I think one of my favourite things though, is the feel of intimacy throughout the book. It isn't something I see often in books of this genre, or at least, not as successfully achieved.
It is easily one of my favourite books in the spirituality genre and one that I know I will refer to time and again, as I begin my own Wisdom Walk and try to implement some of these practices into my life. Highly recommended.
Author's website:
http://www.sagebennet.com/