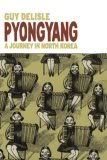 Published by Drawn and Quarterly Books
In Pyongyang: A Journey in North Korea, Guy Delisle brings us a personal account of his experience there, overseeing animation production. In it we get to tag along as Guy tries to explore his environment and learn a little about North Korea. Of course, this is never easy as he has a constant shadow, his guide, who insists on revealing a picture perfect, rose-tinted view of his country.
Everyday activities involve frustrated attempts to seek answers that never come, dealing with animation teams who rarely seem to get things right, trips to various important places, all of which seem to center around Kim Il Sung and hilarious moments such as when he runs amok with a camera - well okay, taking one or two shots of garbage is hardly running amok but the way his guide reacts..
This book is the first graphic novel I have ever read and it won't be my last. I am hooked. This book has so much to like, humour, fact, fun little quizes, sarcasm - my favourite form of humour, and so much more. I love that it brings across the message that comic style books can still be informative and serious.
I couldn't help but think, as I read this book, that it reminded me in some ways of Bill Bryson's exploration of the U.K in Notes from a Small Island. It had a similar feel except this book is really funny, and had me laughing out loud many times. This book succeeds where Notes from a Small Island fell short.

I think this book would appeal to many people and personally, I also think it would make a great gift for those teens in your life who shy away from learning about other cultures and countries. I believe they will be as hooked as I was. I couldn't put this book down until I finished it. It was a quick and entertaining read that has left me eager to learn more about North Korea.