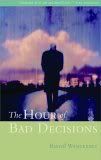 Published by Coteau Books
Canadian Journalist, Russell Wangersky brings us his debut book of short stories. The stories themselves are filled with strong emotion and a descriptive style which I rarely come across.
In the first story
Burning Foley's
, we meet Roy and Tony Meade as they burn down various properties and face the consequences. The vivid descriptions make it possible to immerse yourself into the story on such a level that you can almost smell the smoke, see the flickering glow of the flames dancing and hear the crackle of the fire as it destroys all in its wake. Wangersky also has an almost eerie way of being able to crawl into any of his characters and make them stunningly real, regardless of sex, age or other factors.
In
Mapping
- one of my favourites - we meet John Hennessy and are treated to a haunting look at the life of a firefighter and his memories. The author writes with such emotion and detail that as the character's emotional state changes, it draws the reader along for the ride too. I have rarely read stories which left me with the impression of having my mind and emotions teased and toyed with but that's exactly what the author achieves in most of his tales.
Musical Chairs
is another of my favourites in which a quiet factory worker, who often feels like an outsider, loses 2 fingers in an accident. This results in him being treated very differently, feeling welcomed and embraced by those around him for a while at least. Time passes and things seem to return to normal. What happens next is both shocking and disturbing and gives us a glimpse into the darker side of humanity.
These are just three of the seventeen stories, all of which are very different - the only similarity I personally noticed is the recurrent use of the surname Hennessy - and very original. It's a great read and one of my favourite short story collections.