Published by
Alfred A. Knopf Canada
-
A Division of
Random House Canada
I Think I Love You takes place in two different eras. Firstly, in 1974 we are introduced to two thirteen year olds named Petra and Sharon. Both of these girls, along with others, are fans of David Cassidy and are avid readers of his fan magazine. When the girls hear two pieces of news, they are beyond excited. Firstly, David Cassidy is coming to England to perform in a concert and if that wasn't enough, the fan magazine is running a contest. A quiz that should only be attempted by his most die-hard fans, with a prize that the girls
must
win. A flight to America, to meet David Cassidy in person...
Spring forward to 1998. Petra is almost 40, constantly fighting with her 13 year old daughter, her mother has just passed away, and on the day of the funeral, Petra's husband announces that he is leaving her. Can things get any worse? While sorting out a closet in her mother's home, Petra discovers a dusty letter, declaring her the winner of the contest that she and Sharon had entered so many years ago. How could this have been hidden from her? A few phone calls later, and Petra and Sharon are reuniting for a once in a lifetime experience. An all-expenses-paid trip to Vegas where they will finally meet their idol!
I was hooked on this book within the first chapter. While I was only born in 1974 and so have no real recollection of David Cassidy, a lot of the references still brought back fond memories. Things like certain British candies, Blue Peter (TV Show), and of course, Jackie - the magazine. That was an especially fond reminder for me as I had that magazine delivered to my home regularly and just adored it. I had forgotten all about it until reading this title.
There are so many things I like about this book. It's narrated by Petra herself, and also by a gentleman named Bill who, quite by accident, finds himself with a new job where he has to write in the David Cassidy fan magazine, but, as if he were David himself. The wonderful blend of Petra's young, sweet innocence and Bill's somewhat jaded bewilderment just adds a special quality to what is already quite a magical read. This book will appeal to a wide age range and is sure to warm the heart of every reader.
Of course, it also has the potential to leave us cringing as we remember our own days of pining over our latest idol. For me it was Morten Harket and then the Goss Brothers - pictured below.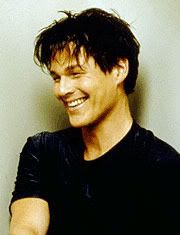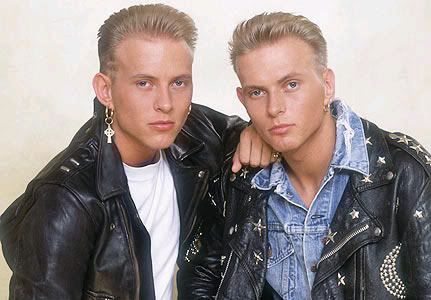 For me personally, it also presented the opportunity to learn a little about David Cassidy's music. Okay, so just about everyone will know 'I Think I Love You' but as the first half of the book is all David, all of the time, it delves into so many more of his tunes and it's difficult to resist the urge to learn more. I googled for his music and got to hear quite a few of his tunes I hadn't been aware of like 'Could it be Forever' and "I am a Clown'. I think my favourite aspect of the book though is the way the girls, as teens, navigate the rocky waters of love and adoration. That, and the dynamic between Petra and her often overbearing and critical mother.
All in all, a great read (I had difficulty putting this book down even to eat and sleep). I'm definitely going to be visiting it again and I will be exploring more by this author.