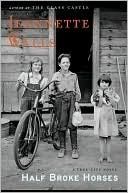 Published by Scribner
an imprint of
Simon & Schuster
and
Simon & Schuster Canada
Half Broke Horses is the true-life story of Lily Casey Smith, grandmother of Jeannette Walls. It's a compelling story in which we follow this amazingly strong and resourceful woman through her challenging life. At the age of 6, we find Lily helping her father to break horses in. At age 15 she is working independently at a teaching job that she loves, enduring a 500 mile solitary and dangerous journey to get there. A little later we find her the mother of two children, one of which is familiar to some Jeannette Walls fans, as the memorable mother, Rosemary Smith-Walls from the book The Glass Castle. Constantly, Lily finds her life to be a struggle as she survives tornadoes, personal heartbreak, the Great Depression and much more, all of which makes Half Broke Horses one of those books that you will find it hard to put down.
I have to admit, I read The Glass Castle a while ago and find myself struggling to remember any of the content (I shall definitely be revisiting that book in the near future) but I did remember that I greatly enjoyed it. As such I was looking forward to checking out Half Broke Horses and I knew from learning about the book online, that I needn't have read, or remembered The Glass Castle to enjoy this title.
Half Broke Horses is an addictive read. I had serious problems putting this book down for any length of time and as such, I finished it in just a day. I couldn't help but devour this title and the writing style of Jeannette Walls brings the characters and background to life in a truly memorable and beautiful way. I found myself to filled with envy as Lily spoke of the lands she worked, lands so dry and desolate but turned into a private oasis with hand-crafted lakes such as Big Jim. The beauty of these lands only scarred momentarily by tornadoes, floods, and droughts as we witness Lily and her family do everything they must in order to survive everything Mother Nature has in store for them.
I found myself longing for these open spaces, and for such a closeness with nature. I also found myself really admiring the family atmosphere on the ranches as the owners and staff alike worked so hard to make it thrive.
A heartwarming read that I know I shall visit again!