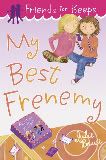 Published by Dial Books for Young Readers
an imprint of
Penguin Group (USA).
Distributed in Canada by
Penguin Group Canada
Ida May is excited about returning to school so that she may spend time with her best friend Stacey. When the first day arrives, finally, she finds that lots of things have changed and she doesn't quite know where she belongs. At a time when she feels most alone, a hand of friendship is extended from the most surprising of places. Maybe life isn't quite so bad after all!
I love this series of books known as 'Friends for Keeps'. When I read the first book
My Last Best Friend
I just knew this was going to be something special. My original love of this series was that it dealt with making new friends following a move. Being a military wife, I see so many children affected by this problem and I instantly began telling people about this great book that would maybe help their children to see that they aren't alone in this.
In this third installment, I am in love with this series for a whole different reason. I love that this book shares positive messages such as it's okay to not fit in, it's okay to not surrender to peer pressure, and that friendship can come from the most unlikely of places if you just open yourself up to it. The storyline keeps the ínterest of the reader and the characters are colourful, memorable and easy to identify with. This is truly a heartwarming series of books that I believe belongs on the shelf of any young girl. Read with a parent I could see this series providing great opportunities for talking with children about the scenarios and their own feelings and experiences.
You can visit the author's website
here
and it even includes a step-by-step guide to making your own BFF bracelet!