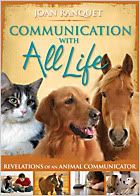 Published by
Hay House Inc.
Distributed by
Raincoast Books
Communication With All Life is a book that has so much to offer. Joan Ranquet shares her personal story of how she came to be an animal communicator and also blesses the reader with numerous shining examples of lives being improved because of it. Although this book does contain a great deal of how-to information, it also delves into the existing links we have with our animals every day, whether we are aware or not. The main theme of the book? "That animal communication is not something we need do or learn.. it just is."
Joan Ranquet has worked with people and their animals in order to help them deepen their connections to one another, resolve behavioural problems, assist in the process of death and dying, and examine incidents surrounding illness and accidents. Now, in this book she gently instructs the reader in how to develop such a bond with their own animals by enacting leadership, responsibility, and positivity in their thoughts and feelings as a way to develop and maintain harmony.
I may very well be biased in this review. As a lover of animal-themed books and books surrounding energy work, to find a book based on both subjects simultaneously is just heaven for me. I personally learned a great deal from this book thanks to the wealth of information but most importantly, the manner in which it is delivered to the reader. Joan Ranquet takes care to ensure that the reader is not simply given the tools and resources to build such a bond with their animals but also that they are aware of the reasoning and logic behind it all. It was so simply laid out that I couldn't help but understand and absorb the content.
In my own experience, I had been practicing some of this before I even picked up the book. A recent feline addition (I am no longer using the word 'rescue' thanks to the author) is excessively timid thanks to her previous home and I had been talking to her gently and telling her how beautiful she is and that she is safe with me. While my husband often gives me that amused look when he catches me talking to the animals*, he was most pleased to hear that she had been allowing me to carefully stroke her. Reading this book has helped me to use my instincts as a base and develop further skills gleaned from this book in order to better relate to our fur-babies. *(Frank AKA my husband adds that it isn't that I talk to the animals, it's that I hold one-sided conversations with them that amuses him.)
Do I agree with everything in the book? Of that I am not certain but as my Grandma used to say - The proof of the pudding is in the eating. I'm certainly willing to give it a shot. What I liked especially about this book is the section called 'Overall Wellness'. I liked learning more about animal nutrition, vaccines and more. I loved the inclusion of resources such as the author's own website and books such as 'Foods Pets Die For', and 'The Nature of Animal Healing' (both titles will be added to Mount TBR in the foreseeable future),
For me, this was a joy to read.
Author's website:
http://www.joanranquet.com