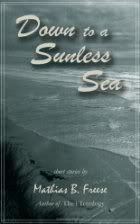 Published by
Wheatmark
A young man stands before a mirror, another is preparing to open a new business with a friend, a bear visits a local town, a young boy keeps an old woman company for a time, a woman visits a graveyard, and a child is taught to swim. These are everyday events that happen all over the world on a daily basis and hardly seem worth a second glance but when mingled with the imagination of Mathias B. Freese these same events become short stories containing something dark, morbid and at times just plain weird.
I found this collection of short stories to be an addictive read thanks to the author's gift for piquing the reader's curiosity and also because a few of the stories have a sprinkling of information that leads the reader to think and question. Sometimes more info will be given but most often not which could be frustrating to some – it was to me at first and then once I got used to the style it didn't bother me so much (though I am still giving a lot of thought to the pit bull!)
I liked most of the stories. I have to admit that the story, which shares the title of the book 'Down to a Sunless Sea', was my least favourite – and sadly, if I had not been reviewing this title, I might have been hesitant to continue reading. Half way through the second story I was really glad I had though because the book really was a great read. Each character is well written and I loved that this book explores the more negative emotions and experiences in life. Some of the circumstances can feel very uncomfortable but again, I liked that. I tend to believe that without experiencing the discomfort and negativity, we can't always appreciate the wonderful things in life.
I had four favourites in this collection.
The Chatham Bear
- in which a bear ventures into town and the reader is treated to the various reactions of the inhabitants. This story had me constantly thinking – and even now I am still mulling it over.
Herbie
– in which a young boy and his friend plan on opening a shoe-shining business, His father's reaction begins a cycle in which the two feed from each other's negative energies. For this story I loved the inclusion of raw, animalistic behaviour though the emotion that was in mind when I finished reading it was sheer hopelessness.
Unanswerable
– in which a moment shared by Father and Son totally shatters a life. I felt a great deal of anger, resentment, and hatred. It's probably one of the most powerful stories in the book and like many of the stories in this collection it touches on the subject of WWII and the holocaust.
My most favourite,
Little Errands
– in which an errand as simple as mailing a letter becomes a task filled with great stress. It really stuck a chord in me but then, like the character in this tale I am one of those people who finds it necessary to check my front door many times even after I know I just locked it. I could empathise with the character completely.
Try it, read it and if you do, please let me know which are your favourites!