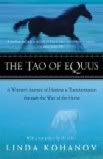 Published by
New World Library
Linda Kohanov shares her personal experiences with equine-facilitated therapy and horses in general while mixing them with a wonderful blend of philosophy, mythology and psychology. It all begins with a beautiful black horse named Rasa with whom Linda experiences a spirutual awakening.
What follows is a wild, moving, and intense journey as Linda witnesses the healing effect that horses can have on us when we build the horse-human bond, and shares some of these accounts with the reader.
I wasn't sure what to expect from this book. While my sister-in-law is crazy about horses, I have never had experience with these beautiful, and often intimidating creatures. I sure didn't expect to reach the last page and find myself with a new respect for horses and those who work with them.
This book tugs at the heartstrings often as you work your way through it's pages. Whether it's the story of Linda and the many horses in her life, or the stories of many people who try equine-facilitated therapy and have their lives forever changed in the most miraculous of ways, this book will capture your heart and give you much food for thought. It did for me at least.
When Linda delves into some of the training methods used with horses, it's inspiring to read her own experiences with that. It's equally devastating to read about the way horses are often taught using methods that teach the horse to fear, and mistreated in other ways too.
This is a great book to read. It's a real eye-opener and regardless of whether you love horses or not when you begin this book, I would be surprised if you didn't love them by the time you reach the last page.
Linda Kohanov has fast become one of my favourite authors. Her writing style is wonderfully fluid and she holds nothing back from the reader. Her raw passion and emotion just leaps off the page. I couldn't wait to read the follow-up book and that will be reviewed next!
Author's website:
http://www.taoofequus.com/