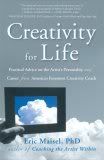 Published by New World Library
Eric Maisel's book, Creativity for Life is an exceptionally great read. Whether you are a working artist, an artist in the making, or have an artist in your life, this book provides valuable insight into the artist's personality and the everyday challenges they face. All of these facts are explained in a way which anyone can understand.
In 4 sections, The Challenges of the Artistic Personality, The Challenges of the Work, The Challenges of Relationships, and Strategies and Tactics, Eric Maisel explores so much ground. While it is directed at artists of all kinds, there is much in this book that can be put to use in order to find and achieve balance and growth in all walks of life so I feel personally this book is a great read for everyone.
This book includes a number of exercises for the reader to put into practice which will aid in creating and retaining focus, removal of blocks and resistance as well as learning to discover ourselves with the help of guided writing, and so much more. One of my favourite topics that is touched on is silencing the negative self-talk and learning instead to think and act confidently. Visualization is also discussed and a couple of examples given which I know I will be trying.
I loved that the author included experiences from people he knew, in order to better share his messages. That in itself made his teachings more memorable to me as I could see not only the tools he was supplying, but examples of them in use. There are also countless ideas within the pages to inspire, or at least there were for me. I can't wait to get writing again!
This is my first book by this great author but I know it will not be my last. I am sure I will be hunting down his previous works (and there are many) and inhaling those with the same curiosity, excitement and enthusiasm as I did with this.
I highly recommend this book. If you only buy one book on this subject, this gem of a book is the one to go for.
You can learn more about the author at
http://www.ericmaisel.com/