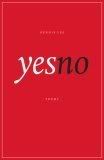 Published by House of Anansi Press Inc.
YesNo is a companion volume to Dennis Lee's
Un
which was published in 2003. I haven't read
Un
but this second book is a joy to read. In YesNo, Dennis Lee brings to light both the negative and positive in a magical, whimsical and unique way.
The poetry within these pages just begs to be read aloud, whether to yourself or friends. The emotion leaps from the pages, the words dance on your tongue and you can't help but enjoy the experience even through the confusion you may feel at first as you adjust to the style of poetry which is indefinable.

I tried to choose a favourite poem from this collection and failed miserably. There are too many which I adored and each of them will trigger your imagination and set your mind racing as you consider the content.

In the author's own words what he aimed for with this book was "Namely, to articulate a world in which the demolition derby and the possibility of living more constructively in the natural order are both real. And at once. So, not just no; not just yes; but yesno." and I have to say he achieved that goal in a brilliant way.

As Un contains parts I through V and YesNo contains VI through X, I would highly recommend buying both books and reading them in the way the author intended. That said, reading the second book alone didn't take away from my enjoyment or understanding.

I will be looking for more by this author.