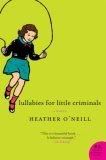 From the Publisher (Harper Perennial - An imprint of Harper Collins Publishers):


Heather O'Neill dazzles with a first novel of extraordinary prescience and power, a subtly understated yet searingly effective story of a young life on the streets—and the strength, wits, and luck necessary for survival.

At thirteen, Baby vacillates between childhood comforts and adult temptation: still young enough to drag her dolls around in a vinyl suitcase yet old enough to know more than she should about urban cruelties. Motherless, she lives with her father, Jules, who takes better care of his heroin habit than he does of his daughter. Baby's gift is a genius for spinning stories and for cherishing the small crumbs of happiness that fall into her lap. But her blossoming beauty has captured the attention of a charismatic and dangerous local pimp who runs an army of sad, slavishly devoted girls—a volatile situation even the normally oblivious Jules cannot ignore. And when an escape disguised as betrayal threatens to crush Baby's spirit, she will ultimately realize that the power of salvation rests in her hands alone.

Right from the beginning of this book, it is easy to see why this book won Canada Reads 2007. It's a novel which is going to grab your attention from the start and you simply won't be able to put it down, or at least I couldn't. I knew it was going to be one of my favourites when I realised I had 8 bookmarks in it. One to keep my reading place for those moments when life interrupted me, and another 7 marking the pages on which my favourite and most memorable moments were kept.

I found my emotions leaping all over the place while reading this. Now, having reached the end of the story and looking back on it, it's hardly surprising. At twelve and thirteen years old I was an emotional rollercoaster and Heather O'Neill has managed to capture the mindset and sentiments of that age perfectly and manages to bring the reader along for the ride too in a voyeuristic yet close and personal way.

Parts of the book simply leap off the page and cause reactions filled with great intensity. I found myself constantly feeling the character's anguish, desperation, joy, confusion, and much more.

I have so many favourite parts of this book but I feel that if I were to share them here, it would take away from your enjoyment of the book and so I will simply share one, which described so perfectly, the simple joys of childhood:


Suddenly I realized that I wanted everything to be as it was when I was younger. When you're young enough, you don't know that you live in a cheap lousy apartment. A cracked chair is nothing other than a chair. A dandelion growing out of a crack in the sidewalk outside your front door is a garden. You could believe that a song your parent was singing in the evening was the most tragic opera in the world. It never occurs to you when you are very young to need something other than what your parents have to offer to you.
I also loved that I got a whole new perspective on guardian angels and I have never seen kisses described in so many creative, intense and beautifully worded ways. There are also added insights, interviews and more included in this book. I greatly enjoyed learning more about the author and was delighted to find also, a list of Author's Picks which I have already added to my reading list!

I can't wait for the next novel by this author and when you read this book, I am sure you will feel the same.

To celebrate the Canada Reads win, author Heather O'Neill created this virtual tour of Baby's world. She took photos and matched them with her readings from Baby's point of view. You can see Postcards for Little Criminals: A Slideshow by Heather O'Neill
here.