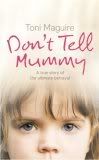 Published by Harper Element -
An Imprint of
Harper Collins
Publishers
Don't tell Mummy is the true story of Toni Maguire's tragic and brutal childhood. A friend (thanks Jean-Luc!) brought this to one my attention and I just knew from the raw emotion it wrought in him, that I had to read it too. I am so glad I did.
In this book we are shown her early beginnings in life, such happiness and innocence which is all too quickly taken away when her father leaves the army and comes home for good. What happens next is beyond imagination. While the outside world sees an almost picture perfect family, behind closed doors there are so many dark secrets. Over many years, Antoinette's defenses are broken down, her faith and trust in all around her is shattered and all she wants is her mother's love and protection. It really isn't much to ask for.
I loved the way the author could take a simple thing and make it so bright and breezy, and later come back to that and weave such a darkness across it. One such instance that will stick with me for a long time, was a visit to an old school-friend of her grandmothers who made homemade sweets:
Engrossed I would watch. my cheeks bulging with some of her samples, as I rolled the one she had told me I could 'test' around my tongue. When the last drop of the sugary syrup had slid down my throat I would play the same game we played every time.
'Mrs Trivett, what are little girls made of?'
I never grew tired of her reply.
'Why Antoinette, how many times do I have to tell you? Sugar and spice of course, and all things nice!'
I would giggle happily and she would reward me with another sweet.
Then later, she writes:
I knew then that although they liked the sweets, they were never going to like me. After that day they liked me less for they could sense how desperately how I wanted their approval and despised me for it.

I remembered then the visits to Mrs Trivett's house and the question I would always put to her: 'What are little girls made of?' I remembered her reply, and thought now that I must be made of a different substance.
This book is one that you won't want to put down but at times I had to. As a survivor I found parts hard to deal with, common ground making me a little uneasy. Other times, I had to put the book down purely because the emotion and anger that I felt when reading this was overwhelming. New levels of disturbing attitudes and behaviour are around every corner and this book left me at the end, totally in amazement and in awe of this author for not only being able to survive such an experience but for being able to put it here, in a book and share her story with world.
A great read and a brilliant reminder that not everything in life is as it seems.
The sequel to this book, picking up where this left off is called When Daddy Comes Home and should be available around August 2007. Personally I can't wait.