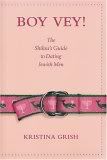 From the Publisher (Simon Spotlight Entertainment -
An Imprint of
Simon & Schuster Inc) :
The definitive, hilarious guide to why Jewish men make the best dates, where to snag a hot mensch, and how to win his mother's heart. After all, she's molded him into the cutest little Oedipus complex you've ever met. Could you show some appreciation?

With humor and emotion, Kristina Grish celebrates the terrific intricacies of multilayered, interfaith relationships in this girl-meets-boy dating guide. She waxes poetic about why Jewish men are great boyfriend material: They're smart, entrepreneurial, generous, doting, and funny. They love to eat, and they're passionate in bed. Sure, their neuroses have neuroses. But isn't it nice to know there are guys out there who analyze relationships more than you do?

Chapters such as "Why Choose the Chosen Ones?," "The First Shtup," and "Talk Yiddish to Me" detail how a sexy Shiksa can meet, date, and love a nice Jewish boy of her own.
This book was fun to read and I couldn't help but race through it. It gives a little insight into the Jewish male, his family, his way of life and so on. There were many educational points to be made and more than a few laugh out loud moments along the way also.
I think the biggest shocker for me, on reading this great little book, was realising just how much of the Yiddish language is in the English vocabulary that we use every day.
An added surprise for me, was to find that this book also contained a few recipes that I just know I am going to try out soon.
This was the first book I have read by this author, but definitely not the last.
Read an excerpt
Author's website:
http://www.kristinagrish.com/