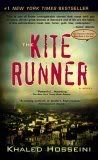 From the Publisher (Riverhead Trade -
An Imprint of
Penguin Group USA) :
The unforgettable, heartbreaking story of the unlikely friendship between a wealthy boy and the son of his father's servant, The Kite Runner is a beautifully crafted novel set in a country that is in the process of being destroyed. It is about the power of reading, the price of betrayal, and the possibility of redemption, and it is also about the power of fathers over sons—their love, their sacrifices, their lies.

The first Afghan novel to be written in English, The Kite Runner tells a sweeping story of family, love, and friendship against a backdrop of history that has not been told in fiction before, bringing to mind the large canvases of the Russian writers of the nineteenth century. But just as it is old-fashioned in its narration, it is contemporary in its subject—the devastating history of Afghanistan over the last thirty years. As emotionally gripping as it is tender, The Kite Runner is an unusual and powerful debut.
I loved this book almost as much as I loved reading Memoirs of a Geisha. The author writes in a deeply descriptive way that just sends your imagination soaring. Sometimes I found that same skill to be a nightmare but that was mainly during those portions of the book which described the brutality and tragedy of life in Afghanistan. A lot of the images painted were very hard to deal with but it is the same when reading of the genocides elsewhere in history. It's never a pretty subject.
I could hardly put this book down. The characters are so vivid and I found myself somewhat sad at the end of the book when I realised I wouldn't learn more of them.
One of the best books I have ever read. If you haven't read it yet, you really should. I learned so much about a different culture and I loved the way the author sprinkled a few words of their language throughout.
Author's website:
http://www.khaledhosseini.com/